About us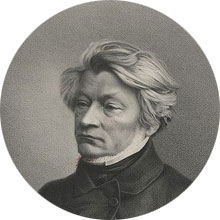 Adam Mickiewicz
Culture needs places that are sure and steady: works and people that, like the proverbial metre stick, set a standard for other values to be measured against. In Polish culture, one such icon is without a doubt Adam Mickiewicz – Poland's greatest poet, who gave birth to Polish Romanticism with his "Ballads and Romances" in 1822. To the people of Poland, he is a man and a legend, a monument of national culture, a believer whose pen was his weapon in the fight for independence and national culture in the volatile times he lived in.
We must, however, remember that Mickiewicz spent most of his life outside of Poland, travelling throughout Europe. It was in Russia, France, Germany and Switzerland that he wrote, in the process affirming Polish culture while the country was subjected to partitions. In a letter to his friend Joachim Lelewel, he wrote
At every turn, with every step,
From on the Nemen, a Pole, a denizen of Europe
As a denizen of Europe, Mickiewicz established numerous contacts within the international artistic milieu. His improvisations were a source of delight, and he enjoyed recognition for his talent, notoriety and popularity with women. In Russia he befriended Alexander Pushkin; in Berlin he attended Hegel's lectures; in Prague he met with the Czech poet Vaclav Hanka. While in Weimar, he was a guest of Goethe, who wrote a poem in his honour and gave him his quill pen as a gift. In Paris, Mickiewicz participated in public life – he worked with institutions like the Literary Society, associated with Hugues de Lamennais and Charles de Montalembert and attended gatherings in the company of George Sand and Fryderyk Chopin. He was a respected professor of Latin literature at the University of Lausanne and a lecturer on Slavic literature at the Collège de France in Paris. In a duel of improvisation with Juliusz Słowacki, he brought his opponent to tears from emotion. He was the object of interest wherever he went. And through his creative work, he turned spectators' attention to the issue of Poland as well. 
Because of all this, Adam Mickiewicz remains an inspiration to this day. It is important to us that Polish culture exists beyond the borders of our own nation and that, like Mickiewicz himself, it can spark interest, inspire, move, occasionally disturb and sometimes infatuate its "audience." We do all we can to make that happen.
OUR VALUES:
Quality
Reliability
Credibility
Permanence
Knowledge transfer
Exchange of ideas 
Sense of humour
Hospitality

THE INSTITUTE'S ACTIVITY
At the Adam Mickiewicz Institute:
we promote Poland and participate in cultural events around the world, including festivals, fairs and exhibitions
we are creating and maintaining an integrated database of information on Polish culture, making efforts to spread this information, in multiple languages, through various web channels
we produce and gather informational and promotional materials (multi-language publications, illustrations, recordings, films, literary programmes, exhibition projects) to make them available to interested persons and institutions both in Poland and abroad
we provide foreign culture professionals, academics and specialists from various fields with relevant information on Poland and Polish culture
we organise study visits for curators, promoters, managers, critics and artists from around the world
PROJECTS
EMPLOYEES
Published at: 2013.12.18 22:35
Updated at: 2017.06.08 09:48
Written by: DOOK