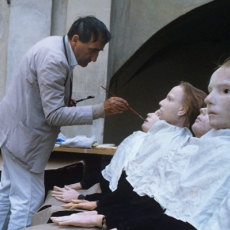 UNESCO has declared 2015 the Year of Tadeusz Kantor – April 6th marked the 100th anniversary of his birth.  Culture.pl has planned an extensive program to promote knowledge about Kantor and his work around the globe. It will include a wide variety of events, from exhibitions, theatrical performances, film screenings, theater workshops, to academic conferences and collaborations with prestigious academic institutions around the world.
In Edinburgh, in cooperation with the Royal Scottish Academy of Art & Architecture, Culture.pl will present a series of events entitled "The Legacy of Kantor in Scotland". The flagship example of a Polish-American co-production, Lars Hanrik Jan's play "The Institute of Memory (TIMe)" , which was inspired by the Kantoresque concept of transience and memory. Its world-premiere will take place in May in Los Angeles. The cross-sectional, monographic retrospective of works by Kantor to be presented in presented at the renowned Sesc Consolação cultural center in Săo Paulo, will be the first such extensive summary of the artist's ouevre displayed overseas. The events organized during Kantor's centenary will be on one hand, a sentimental journey through the world of Tadeusz Kantor, a retrospective of his work. On the other - the beginning of a discussion about Kantor's ideas, which can still be relevant to today's artists.
Events during the centenary are co-organized by Culture.pl, Centre for the Documentation of the Art of Tadeusz Kantor Cricoteka and the Tadeusz Kantor Foundation and other partners in Poland and abroad.
Published at: 2015.06.23 17:31
Updated at: 2015.06.23 17:32
Written by: Nitzan Reisner