Roman Statkowski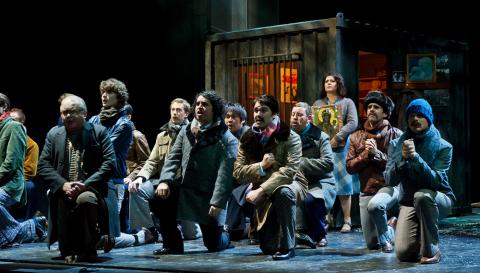 photo: Clive Barda / ArenaPAL
Wexford Festival Opera – Wexford, October/November 2011
Solidarity of Arts Festival – Gdańsk, 2013
Maria, the second of his two operas reveals itself to be something of a missing link between the stage works of Moniuszko and Szymanowski, and its first-ever production outsider Poland is thus a must for anyone interested in Polish Music.
Tomasz Tokarczyk conducts the unashamedly romantic score with tremendous feeling as Wexford's Chorus and Orchestra show the rich tapestry of Statkowski's choral and instrumental colour.
The moody piece seemed to fit this Irish band like a glove and the shifting moods and modulations of the (estranged) love duet were evocative and romantic.
Wexford Festival Opera in the idyllic location of South-East Ireland focuses on rarely performed and often forgotten operas, giving them a new life and a chance at contemporary recognition. That was exactly the case with "Maria", whose four performances at the festival garnered rave reviews.
Today, Roman Statkowski is considered as one of the most important Polish composers before Karol Szymanowski. His 1904 entry to a competition for an opera based on Antoni Malczewski's "Maria" won a prestigious first prize and the opera was staged in 1906 in Warsaw. Sadly, however, it would be performed only another five times in the 20th century. "Maria" was rediscovered in 2008 and lauded as one of Poland's most important operas after those written by Moniuszko. The opera bears clear influences of Statkowski's favourite composer, Pyotr Tchaikovsky. The libretto is set in the Polish borderlands of the 17th century and tells a story of crime and ill-fated love.
Conducted by Tomasz Tokarczyk and directed by Michael Gieleta opera retells the tragic story of Maria, her husband Wacław and his father whose greed leads to a grisly demise for both lovers.