Philharmonia Orchestra, Esa-Pekka Salonen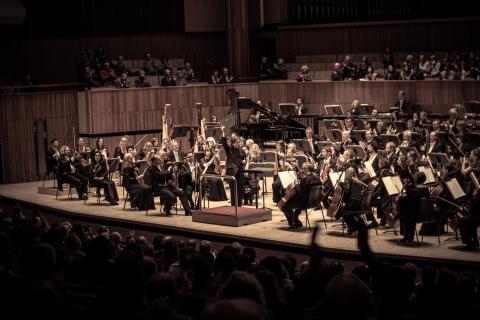 photo: Konrad Ćwik / IAM
Concert Tour: Tokyo, Warsaw, Rome, London, Udine, Modena, Madrid, Dresden, Vienna, Ljubljana, Paris, Berlin
January – September 2013
If there's one thought that has emerged from Woven Words, the celebratory series given by the Philharmonia and the Royal College of Music, it's that the work of Poland's greatest 20th-century composer should be in every orchestra's repertoire, all the time.
Spectacular project of the Philharmonia Orchestra and the Adam Mickiewicz Institute under the baton of Esa-Pekka Salonen - one of the most important ambassadors of Lutosławski's music in the world.
The cycle featured world-famous soloists: Krystian Zimerman, Leif Ove Andsnes, Helene Grimaud (piano), Matthias Goerne (baritone), Truls Mørk (cello) and Jennifer Koh (violin).
Pieces composed by Witold Lutosławski were compiled with French music appreciated by the composer: the works by Maurice Ravel, Albert Roussel and Claude Debussy.
The project encompassed 19 symphonic and chamber concerts around the world, seminars, publication of new footage on the special on-line platform, www.woven-words.co.uk, and new articles by musicologists specializing in Lutosławski's work.
More than 25 000 listeners participated in the live concerts of the Woven Words series.
"Woven Words" is the English translation of the title of a poem by Jean-François Chabrun, Paroles tissées, based on which Lutosławski created a song cycle. Commenting on the fact that his music somehow transcends the limits of the "fabric of words" by Chabrun, the composer referred to Debussy's famous saying (as quoted by Paul Valéry), that "music begins where the words end". Lutosławski also added that he did not believe in music's ability to explicitly deliver non-musical content.