Mieczysław Weinberg
Dir. David Poutney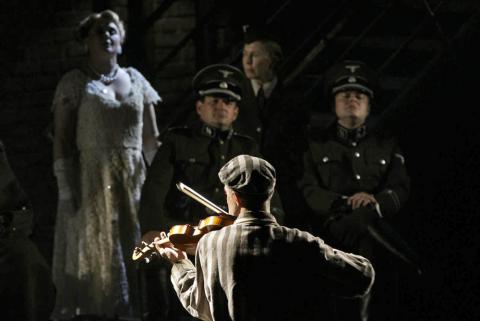 photo: Karl Forster / Bregenzer Festspiele
Bregenzer Festspiele 2010
Teatr Wielki – Polish National Opera Season 2010/11
English National Opera Season 2011/12
Lincoln Centre Festival 2014
Lyric Opera of Chicago Season 2014/15
*****
David Pountney's production of The Passenger (…) so effectively fuses music, words, and stagecraft that the result is overwhelmingly visceral.
The work was brilliantly served by David Pountney's production. Johan Engels's two-level set, with the ship above and the camp below—bleakly characterized by railroad tracks and wooden bunks—facilitated the shift in action from one to the other. Marie-Jeanne Lecca's realistic costumes, which dressed all those on board ship in white, heightened the contrast.
Dmitri Shostakovich, mentor to Mieczysław Weinberg, described The Passenger as "a perfect masterpiece" but the opera was censored by the Soviet establishment and never performed in the composer's lifetime. It has been championed by British director David Pountney, who directed the first full production in 2010 at the Bregenz Festival in Austria.
The libretto (by Alexander Medvedev) is based on a novel by the Polish writer Zofia Posmysz, adapted from her radio play Passenger in Cabin 45. The play, set a number of years after World War II, follows a former Auschwitz prison guard travelling on an ocean liner with her husband as she catches sight of a fellow passenger she fearfully suspects was a prisoner she knew in the notorious death camp.